There's always a bit o' fun brewing at the Canteen.
Calendar
Canteen Brewhouse music at 2381 Aztec Rd NE
January 28 | Porter Draw (Indie/Americana)
4-7pm
February 1 | Chris Dracup (Blues/Reggae)
6-9pm
February 1 | Chris Dracup (Acoustic Blues)
6-9pm
February 8 | Russell James & Eventide (Indie/Americana)
6-9pm
February 11 | Le Chat Lunatique (Dirty Jazz)
4-7pm
February 15 | Georgia Parker (Western Swing on tour from Texas)
6-9pm
February 18 | Silver String Band (Bluegrass/Folk)
4-7pm
February 22 | The Real Matt Jones (Rock)
6-9pm
February 25 | Boris & The Salt Licks (Americana)
4-7pm
March 1 | Todd Tijerina (Acoustic Blues)
6-9pm
March 4 | Still Closed for Repairs (Indie/Americana)
4-7pm
March 8 | The Porter Draw (Indie/Americana)
6-9pm
March 11 | High on the Hog (Folk/Americana)
4-7pm
March 17 | St. Patrick's Day Celebration!
Mac-Tire of Skye playing bagpipes at 2:30pm
The Boondoggles at 4pm
March 18 | Squash Blossom Boys (Bluegrass)
4-7pm
March 22 | Johnny Azari (Delta Blues on tour from NOLA)
6-9pm
March 25 | Tom Bennett One Man Band (Folk on tour from Georgia)
4-7pm
March 29 | Julian Dossett Trio (Soul/Blues)
6-9pm
Canteen Taproom music at 417 Tramway Blvd NE
January 27 | The Real Matt Jones (Songwriter/Rock)
5-8pm
February 3 | Russell James & Jacob Chavez (Americana/Folk)
5-8pm
February 10 | Todd Tijerina (Acoustic Blues)
5-8pm
February 17 | Boris McCutcheon & Alex McMahon (Southwest Americana)
5-8pm
February 24 | Julian Dossett Duo (Soul/Blues)
5-8pm
March 3 | RJ Perez (Funk/Blues)
5-8pm
March 10 | Jacob Chavez Duo (Americana/Folk)
5-8pm
March 17 | TBD
March 24 | Nathan Fox (Soul/Americana)
5-8pm
March 31 | Johnny Azari (Delta Blues on tour from NOLA)
5-8pm
ON STAGE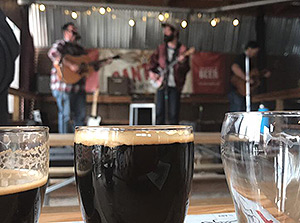 Get a front row seat to great live music, Thursdays and Sundays on the Canteen Brewhouse stage. All performances are free.
The lineup is always changing, but here's the scoop on a few of our returning artists.
Alex Maryol
The son of Greek-American restaurateurs, Alex Maryol grew up in Santa Fe surrounded by a lively artistic and cultural landscape. Raised on the music of Chuck Berry, Fats Domino and Elvis Presley, he began songwriting during his teenage years while performing at smoky bars and coffee shops in downtown Santa Fe. While primarily influenced by blues greats such as Lightning Hopkins and Buddy Guy during these years, Alex maintained a love for all musical genres from classical to grunge. In his early twenties Alex gained notoriety by performing as a blues act at festival favorites such as the Telluride Blues and Brews Festival and the King Biscuit Blues Festival. These years of working in the blues laid a solid foundation for him to expand his ideas in other fields of music.
Le Chat Lunatique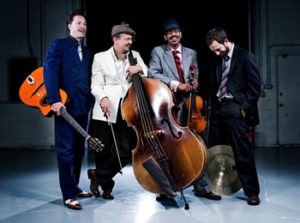 As unpredictable, fearless, and entertaining as their namesake, Le Chat Lunatique purveys an addictive genre they call "filthy, mangy jazz," a signature sound that makes you want to smoke and drink too much—if only you could get off the dance floor. Le jazz hot of Django Reinhardt and Stéphane Grappelli is their north star, but they use that beacon to navigate through a wide range of genres, blending Western swing, classical, reggae, doo-wop, and "anything else we damn well please" into strikingly original compositions and audaciously reworked standards alike.
Their irreverent humor, their intensity, and their expert musicianship will soon win them your acclamation as the best time you've ever had in public with your clothes on.
The Real Matt Jones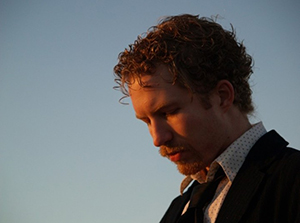 ". . .Albuquerque's Matt Jones serves up a bevy of tunes that go down as easily as his two-syllable moniker."
-Jennifer Clay, SPIN Magazine
The Real Matt Jones is a singer and songwriter that looks to the idiosyncrasies in life and magnifies them to the point where listeners say, "Oh yeah, I can see that."
Matt has performed and toured extensively in many areas throughout the United States and Canada. The emphasis in Matt's music is on songwriting, vocal ability, and rhythmic nuances, but The Real Matt Jones is 100 percent entertainer.
While the music is resoundingly pop-oriented, he entices listeners with interesting arrangements and subject matter. Additionally, he delivers soulful lyrics that evoke powerful emotions along with flawless guitar work, all the while being peppered with his own brand of humor and storytelling. These elements tie together to make music that has great replay value, and is easy to remember.
The Porter Draw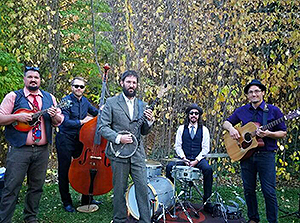 The Porter Draw is an Alt-Country, Americana band from Albuquerque. They have been key contributors to a flourishing New Mexico roots music movement since 2
007 and have shared the stage with such greats as Greensky Bluegrass, Reverend Horton Heat, New Riders of the Purple Sage, Cross Canadian Ragweed, and Cadillac Sky.
Fitting in at country honky-tonks and rock n' roll clubs alike, The Porter Draw have built a reputation for high energy, sweat-drenched shows coupled with tight harmonies of wistfully delicate lyrics of longing, heartbreak, and the American experience.
Silver String Band
Silver String Band, Albuquerque's premier bluegrass/Americana ensemble, was established in August of 2015 as a collaboration between musician and songwriters already deeply entrenched in the New Mexico music scene. Silver String Band plays a combination of originals, traditional bluegrass favorites and creative covers in the bluegrass style.
Keith Sanchez
Kei
th has gained tremendous notoriety as a mesmerizing singer/guitarist, performer and songwriter. His music has been distributed throughout the United States, garnering a #1 charting song on the national Rock en Español R&R charts, and he's been featured on major network shows such as The Shield on FX, and MTV Español International.
Keith was the principal performer and Music Director for Carlos Santana's Maria Maria Restaurants throughout California and the southwest. Now performing and writing as a solo artist he showcases his reinvented sound laced with rootsy rock, soulful blues, latino groove, artful singer-songwriter reflection, and a healthy dash of pop.
CANTEEN
BREWHOUSE
2381 Aztec NE
Albuquerque, NM 87107
(505) 881-2737

Sun–Thurs: Noon–10pm
Fri–Sat: Noon–11pm
CANTEEN
TAPROOM
417 Tramway Blvd NE
Albuquerque, NM 87123
(Tramway & 1-40)
(505) 200-2344
NEW EXPANDED HOURS!
Mon–Thurs: 11am–10pm
Fri–Sat: 11am–11pm
Sun: noon–10pm
GET IN TOUCH
Questions? Bring 'em on. Feedback? You bet. Send us a high five or some good ol' constructive criticism. We're always happy to hear from you.