Because nothing goes better with good beer than good food.
CANTEEN BREWHOUSE MENU
Our original location on Aztec Street offers a full menu of soups, salads and sandwiches.
NOSHES
Beer Sponge

Big & hot salted pretzel with Lusty Monk chipotle mustard, ranch dressing or marinara
$5.75
Spin & Art Dip
Gooey and warm, served with sliced baguette
$5.95
Hummus d'Burque
House made with green chile and served with sliced baguette
$5.50
Chips y Salsa
Locally-made Papa Jefe's killer salsa. Mighty, mighty spicy!
$3.75
Frito Pie
Black bean chili, corn chips, cheese and diced onion. A classic!
$5.50
Brewer's Board
A changing selection of artisan meats and cheeses with our own house-made pickled vegetables and sliced baguette
$11.95
SOUP and SALAD
Soup o' da Day

Could be soup…could be stew…could be posole! Point is, it changes daily
$2.50/cup
$3.50/bowl
Canteen Chili
House made black bean chili
$3.50/cup
$5.50/bowl
The Canteen Chef Salad
Fresh mixed greens layered with artisan meats, cheeses and fresh veggies, tossed with our chipotle vinaigrette
$8.25
Side Salad
Romaine lettuce, tomatoes, gorgonzola cheese, with your choice of house vinaigrette or ranch dressing
$3.50
SWANKY SANDWICHES
Sandwiches are served with kettle chips and a pickle. . .just cuz! Ask for the Sandwich O' Da Day: a snazzy combo of whatever we have on hand!
Brewer's Brat
Stout-marinated bratwurst, kraut and mustard on the side. Add a generous helping of our house-made black bean chili for $1.25
$5.50
Cubano
Tender smoked pork loin, mortadella, pickles, provolone and mustard $8.25
Tuna
Albacore tuna, mayo, romaine lettuce, tomato, served on sourdough toast
$8.75
Grilled Cheese
Sourdough bread and cheddar cheese. Simple, gooey and delicious!
$5.75
Veggie Wrap
Spicy hummus, arugula, roasted red peppers, mozzarella, mushrooms, artichoke spread, wrapped in a spinach tortilla
$7.95
Turkey Wrap
Turkey, tomatoes, swiss cheese, green chile, spring mix, with chipotle vinaigrette on the side, wrapped in a spinach tortilla
$8.50
Beef and Bleu
Wrap Roast beef, cheddar cheese, grilled mushrooms & onions, romaine lettuce, with a bleu cheese vinaigrette on the side, wrapped in a spinach tortilla
$8.75
Turkey
Turkey, tomatoes, swiss cheese, green chile, chipotle mustard
$8.95
Knuckle Sandwich
Italian prosciutto, salami, mozzarella cheese, arugula, roasted red peppers
$10.50
Cheesy Phil
Roast beef, grilled onions, mushrooms, roasted red peppers, provolone, aged cheddar
$8.50
Piggly Wiggly
Pulled pork loin, tangy house-made IPA BBQ sauce, aged cheddar
$7.50
Frenchy
Smoked pork loin, caramelized onions, melted brie, Original Sin mayo
$8.50
SOMETHING SWEET
Canteen Float
House-made Brewhouse Root Beer & vanilla bean ice cream!
$4.50/16oz

CANTEEN TAPROOM MENU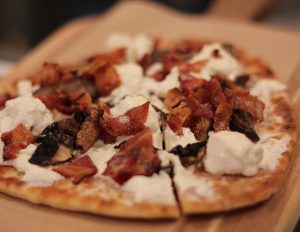 The Canteen Taproom at 417 Tramway features local brats, savory flatbreads, and a variety of sandwiches and salads. 
APPETIZERS
Papa Jefe Salsa
Tortilla Chips and Albuquerque's own Papa Jefe salsa. Careful. . . it bites back!
$3.95
Bombdiggity Charcuterie Board
Assorted artisanal meats and cheeses served with pickled vegetables.
(market price)
Fondue and Pretzel Bites 
Our house-made beer fondue served with warm salted pretzel bites.
$6.95
SALADS
House Salad
Served with mixed organic greens, cucumber, radish and cherry tomatoes.
$4.95
Organic Baby Kale Salad
Served with shaved Gruyere, salted pumpkin seeds, cherry tomatoes and all-natural bacon.
$7.95
Farmhouse Salad
Served with organic mixed greens, kale, turkey, roast beef, Swiss and cheddar cheese.
$9.95
FLATBREADS
Tomato Basil 
Flatbread served with San Marzano tomato sauce, burrata, pear tomatoes, extra virgin olive oil and basil.
$5.75
Ham and Ricotta 
Flatbread served with whipped sea salt ricotta, caramelized onions, serrano ham and arugula.
$6.95
Mushroom and Bacon 
Flatbread served with roasted mushrooms, goat cheese, sea-salt ricotta and bacon.
$6.50
LOCAL SAUSAGES
Green Chile Chicken Sausage
Turn up the heat with a green chile chicken sausage! Try it with our Dougie-Style Amber!
$8.95
Andouille Pork Sausage
A pork sausage with garlic, paprika, onions and other spices. Try it with our HIgh Plains Pilsner or our Flashback IPA!
$7.95
German Bratwurst
A mild German pork sausage. Delicious! Try it with our Pecos Trail Brown!
$7.95
Your choice of artisanal sauerkraut: Garlic and dill, Sriracha or craft beer.
SANDWICHES
Porchetta and Gruyere
Sandwich served with porchetta, Gruyere cheese, and arugula. Served on a garlic and rosemary bun.
$9.95
Roast Beef and Cheddar
Sandwich served with cold roast beef, arugula, cheddar cheese, and balsamic mayo. Served on a ciabatta bun.
$8.95
Sous Vide Pork Shoulder 
Sandwich served with Sous Vide pork shoulder, Carolina-style mustard BBQ sauce. Served on ciabatta bun.
$8.50
Smoked Brisket 
Sandwich served with New York deli-style smoked brisket, Swiss cheese and balsamic mayo. Served on a ciabatta bun.
$8.95
Portabellini and Cheddar 
Sandwich served with grilled portabellini mushrooms, aged cheddar, caramelized onions, roasted red peppers and balsamic mayo. Served on a garlic and rosemary bun.
$7.50
B&BLT 
Sandwich served with organic heirloom tomatoes, burrata, all natural bacon and arugula. Served on a garlic and rosemary bun.
$8.25
Turkey and Provolone 
Sandwich served with all natural turkey breast, all natural bacon, provolone and organic mixed greens. Served on a ciabatta bun.
$8.50
CANTEEN
BREWHOUSE
2381 Aztec NE
Albuquerque, NM 87107
(505) 881-2737
Patio is open!
Beer to go!
3-8PM daily
(505) 881-2737
canteenbrewhouse@gmail.com
CANTEEN
TAPROOM
417 Tramway Blvd NE
Albuquerque, NM 87123
(Tramway & 1-40)
(505) 200-2344
Patio is open!
Beer to go!
3-8PM Daily
(505) 200-2344
canteentaproom@gmail.com
GET IN TOUCH
Questions? Bring 'em on. Feedback? You bet. Send us a high five or some good ol' constructive criticism. We're always happy to hear from you.